Red Cederberg's base is in the central Cederberg at Onderhuis, Keurbosfontein, a rare remaining example of a Cederberg Farm just 3km's past Matjiesrivier on the back road to Wuppertal. Its close to Cederberg Wines, TruitjiesKraal, Stadsaal, Bakkrans, the Langkloof and Eselbank. The farm has its own exclusive 5-hour trail (up and down) to the iconic Wolfberg Arch.
Filmmaker, father, cook, traveller, urban farmer, author and now custodian Justin Bonello has produced, presented and created over 28 television series and delivered more than 240 hours of programming across various genres to broadcasters as diverse as Netflix, BBC International, Sky Network, National Geographic, Discovery, Food Network, Travel Channel and local South African broadcasters MNET, ETV and SABC – to name but a few and has published 7 books with Penguin.
Known as South Africa's bush cook, he created and presented 7 seasons of South Africa's award-winning reality show, the Ultimate Braai Master, which aired locally on ETV and internationally on Netflix.
He is passionate about wild nature and is in the tentative stages of pre-production for two new series: Ghost focuses on leopards of the Cape Fold Mountains and Bush Cook is an extremely personal deep dive into why we cook.
He is the CEO and founder of Neighbourhood Farms NPC, an urban farming Not for Profit that is sowing seeds to fix a broken food system by providing children and community members with real edible education.
Married to Eugenie, father of three children, Daniel, Samuel and Gabriella. He loves his 3 dogs, 3 chickens and two ducks (especially the organic eggs they produce) and is a passionate gardener that believes we can grow a lot of what we eat if we just apply our minds.
He is happiest when he is in the great outdoors travelling through Southern Africa and is thrilled to be the custodian of Keurbosfontein, Bakkrans and Mooiberg. He says, 'becoming the custodian of these historic farms is such a privilege. In my heart of hearts, I imagine that one day, guests will come to the Red Cederberg and take a step back in time, they'll light candles as night falls, cook their dinner together in the Waenhius Kombuis's kaggel and break bread under a million stars and in doing so, will help to preserve these farms for future generations to experience."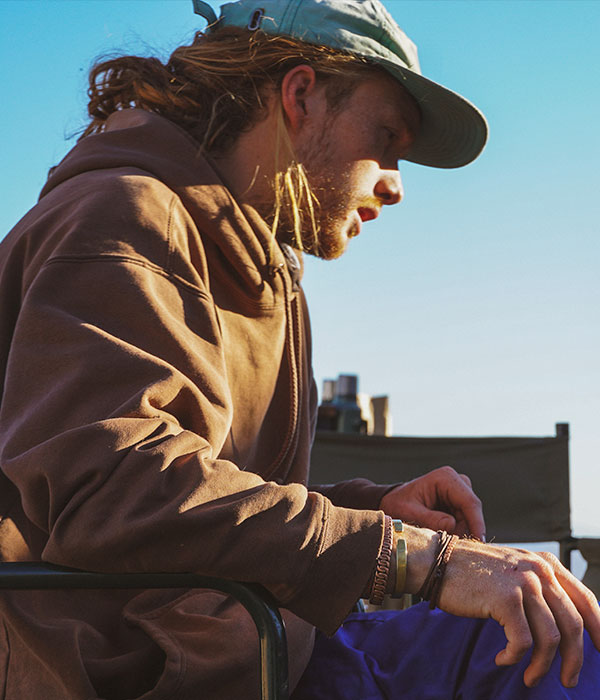 Keurbosfontein Farm Custodian
After finishing a BSc in Environmental Sciences in 2020 at the University of Cape Town, Dan has searched for a space worth sinking his roots into. A place where he can effectively improve his impact on the world.
Regenerative Agriculture and Landscape Management concepts have been a long-standing passion for Dan and Keurbosfontein with the surrounding Red Cederberg, provides a wonderful opportunity to implement a wide scope of regenerative agricultutral and conservation projects.
Dan sees this as a space where past efforts and contributions can be used as foundations for further sharing of experiences and knowledge both old and new. An opportunity to build on past traditions while creating some new.
He says, 'Guess it's time to get our hands dirty!'
Keurbosfontein Onderhuis belongs to Johan van der Westhuizen, who was born and grew up on the farm. At a still carefree age of 14, his grandfather informed him that he might inherit the property one day, and if so, requested him to preserve and care for the farm.
Fulfilling his promise, Johan restored and renovated the Onderhuis farmstead to ensure its future sustainability, whilst preserving and honouring its earlier history. Many new trees were also planted to retain the serenity for which Keurbosfontein is so well-known.
Keurbosfontein started off as a Cape pioneer farm, carved out of the barren soil by hardworking people with calloused hands. They arrived on horseback, with their ox wagons. They didn't have much and demanded little, except the opportunity to be self-sufficient.
They built with handmade clay and straw bricks, hand carved wood and handmade nails and latches. Nothing was bought readymade. They cultivated the straw for their thatched roofs. They were subsistence farmers who cleared the lands and initially planted vegetables and fruit trees, mostly for their own use only. Oak trees were planted for acorns for fodder for livestock. During times when grain was in short supply, acorns were even milled to bake bread from. Even finely made jackets and trousers from animal skins were not uncommon.
Keurbosfontein and the Onderhuis farmstead have inevitably changed much from its earlier beginnings, but it is still standing solidly on its pioneer foundations. While some of the old ways and traditions might have disappeared over time, it still is an old-world place where we can celebrate the simple things in life.
Johan's wish is that Keurbosfontein will withstand the next 300 years and centuries well beyond. He says: "It is a great sense of comfort to have Justin Bonello, together with his son Dan, fulfilling a custodian role at Keurbosfontein. His respect for our history and his vision for our future will ensure that Keurbosfontein can go forward with optimism".
Things to do nearby
Enjoy wine routes, hiking, the wilderness and stargazing while escaping with us at our Red Cederberg Escapes.